Background of the Comic
This Comic on the colonial history of Germany was first published in German for and at Literatur Portal Bayern. The narrator from Munich, walks through one of the streets of their town, Herero Straße. It was renamed twice, in 1933 and 2007. We follow them on their walk through the street and see their subjective view of historic events.
One needs to understand history to understand current events, like joint civilian efforts for the renaming those streets, which currently pay tribute to mass murderers and places of mass murder. And where colonial occupation of the African continent is concerned, the German Empire, constituted in 1871 was right up among the front runners. The visual version of this comic is followed by a text-only version available for screenreaders.
Visual version of the comic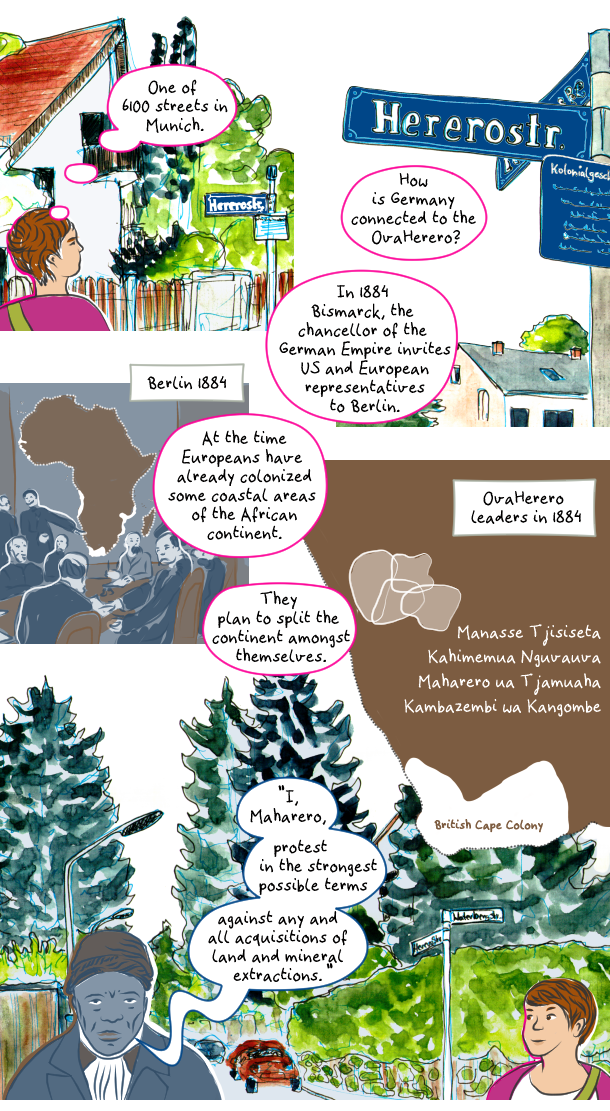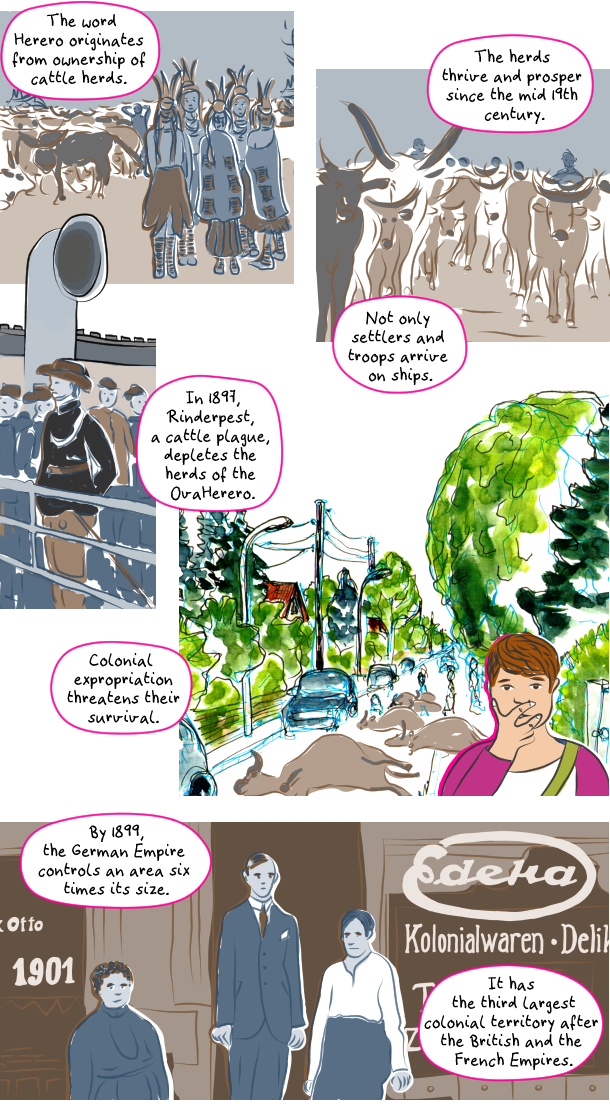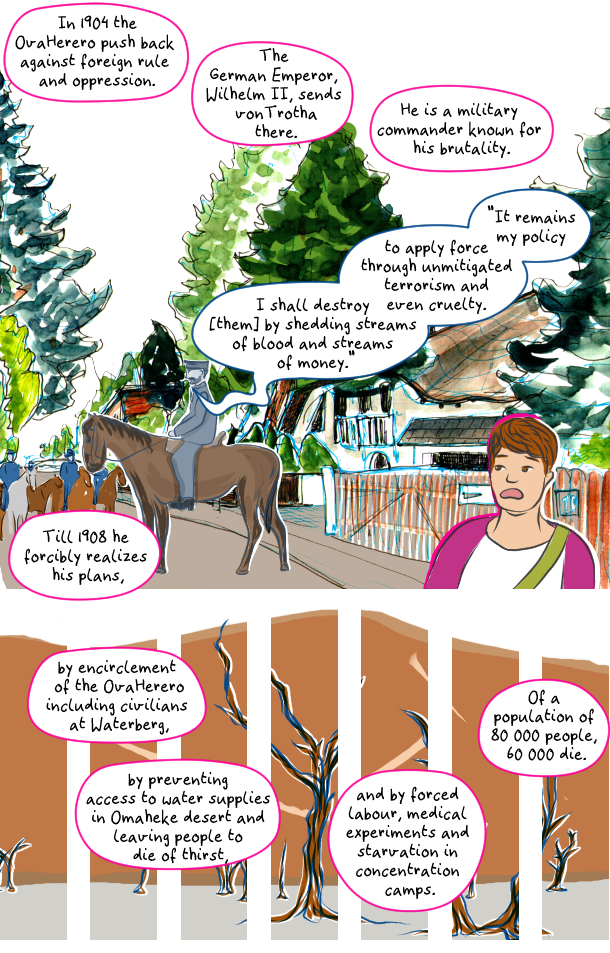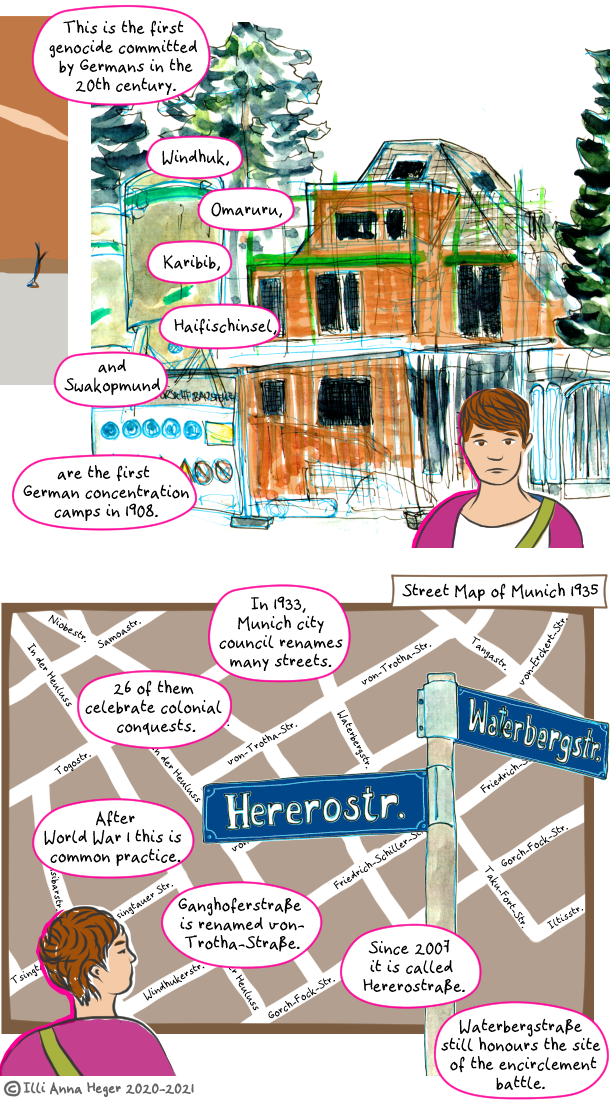 Thanks
I want to thank Modupe Laja, Ali Schwarzer, Zara Jakob Pfeiffer and Tanja Miethe for sensitivity reading and valuable discussion.
Sources
Town Archive Munich Resolution of city council of Munich, 22nd June 1933, about renaming of streets. (German)
Völkermord in Deutsch-Südwestafrika – Der Kolonialkrieg (1904-1908) in Namibia und seine Folgen by Jürgen Zimmerer, Joachim Zeller (Hg.), Ch. Links Verlag Berlin, 2016. Proclamation of Maharero ua Tjamuaha in 1884, page 24. (German)
Towards Redemption – A socio-political history of the Herero of Namibia between 1890 and 1923 by Jan-Bart Gewald, Ridderprint, 1996, page 27. (English)
'Streams of blood and streams of money': New perspectives on the annihilation of the Herero and Nama peoples of Namibia, 1904-1908 by Mohamed Adhikari, Kronos: A Journal of Interdisciplinary Synthesis, No. 34, Making Histories, pp. 303-320, published by University of Western Cape 2008. The cited quote by von Trotha is on page 305. In the quote "the rebellious tribes" was exchanged for "them" to avoid distribution of violent languange about the OvaHerero.(English)
Koloniale Straßennamen in München by Zara S. Pfeiffer, documentation of the resolution of the Council of Foreigners of Munich regarding the decolonization of street names in Munich, April 2013. (German)
Find more sources on the German page.
Transcript of the visual Comic to text
I am at the beginning of Hererostraße looking pensive at a modern family home. One of 6100 streets in
Munich. How is Germany connected to the OvaHerero?
In 1884 Bismarck, the chancellor of the German Empire invites US and European representatives to Berlin. They sit surrounding him in a big hall. Due to subdued color, the hall looks like taken from an old photography. At the wall a huge map of the African continent with white marks in several areas of its coast.
At the time, Europeans have already colonized some coastal areas of the African continent. They plan to split the continent among themselves. One of the men points to an unmarked area on the map, north of British Cape Colony. In 1884, those are the territories of OvaHerero leaders: Manasse Tjisiseta, Kahimemua Nguvauva, Maharero ua Tjamuaha and Kambazembi wa Kangombe.
In front of Hererostraße in Munich with its red tiled roofs and green trees, Maharero ua Tjamuaha speaks: "I, Maharero, protest in the strongest possible terms against any and all acquisitions of land and mineral extractions." In subdued tones, he looks like taken from an old photography. I stand a bit to the side listening to him wearing a pink cardigan, carrying a green tote bag.
Five young women stand together chatting. Colors are like in an old photography. They wear knee-length skirts, high hats, and two of them also wear capes. Behind them a child is surrounded by cattle some turning their heads.
The word Herero originates from ownership of cattle herds. The herds thrive and prosper since the mid 19th century.
The blower head of a steam ship moves in front of the photograph of the women. On deck, white men in uniform watch the horizon. Not only settlers and troops arrive on ships. In 1897, Rinderpest, a cattle plague, depletes the herds of the OvaHerero. Colonial expropriation threatens their survival.
In the here and now, I see dead cattle lying in the street in Munich all around me, clapping a hand over my mouth.
In subdued color: a white man and two white women on the steps of their "Edeka Kolonialwarengeschäft", a general store with imported colonial product., at the turn of 20th century in Munich. They wear suit and blouses. The founding year of the store, 1901, is written on the display window.
By 1899, the German Empire controls an area six times its size. It has the third largest colonial territory after the British and the French Empires.
In 1904 the OvaHerero push back against foreign rule and oppression.
The German Emperor, Wilhelm II, sends von Trotha there. He is a military commander known for his brutality.
A group of German colonial soldiers from the past appear in today's Hererostraße in front of a old building with an arched roof. Much larger in front, von Trotha sits high on his horse. He proclaims: "It remains my policy to apply force through unmitigated terrorism and even cruelty. I shall destroy [them] by shedding streams of blood and streams of money." I standing by the scene, horrified, my mouth open.
Till 1908 he forcibly realizes his plans, by encirclement of the OvaHerero including civilians at Waterberg, by preventing access to water supplies in Omaheke desert and leaving people to die of thirst, and by forced labor, medical experimentation and starvation in concentration camps.
High sand dunes behind single gnarled trees. White stripes divide the view into seven separated areas.
Of a population of 80 000 people, 60 000 die.
This is the first genocide committed by Germans in the 20th century. Another look at the gnarled trees. In 1908, Windhuk, Karibib, Omaruru, Haifischinsel and Swakopmund are the first German concentration camps. I am standing in front of the construction site of a new family home in Hererostraße. The reddish-brown bricks, not plastered yet, are visible behind a green construction scaffolding. I stare apprehensively.
In 1933, Munich city council renames many streets. 26 of them celebrate colonial conquests. After World War 1 this is common practice. Ganghoferstraße is renamed von-Trotha-Straße. Since 2007 it is called Hererostraße. Waterbergstraße still honors the site of the encirclement battle.
I am reminded of the street map of Munich of 1935: von-Trotha-Straße crosses Waterbergstraße, which crosses von-Erckert-Straße, and Tangastraße, and Gorch-Foch-Straße, Niobestrasse, Taku-Fort-Straße, Samoastraße, Sansibarstraße, Windhukerstraße, Tsingtauerstraße, Togostraße, Iltisstraße and more.
At Herero- corner of Waterbergstraße, I study the street sign at the intersection.
I want to thank Modupe Laja, Ali Schwarzer, Zara Jakob Pfeiffer and Tanja Miethe for sensitivity reading and valuable discussion.