Overview
When I started this list of trans spectrum comics, there where much fewer comics around then nowadays. Back in 2014 I was focusing on web comics, but now I will also share printed comics, that I read and loved. I collected comics about people from all over the trans spectrum: trans women, trans men, nonbinaries, genderqueer people and beyond.
Some of the comic artists write from their own perspective, some are cis people that centered their stories on people from the trans spectrum. I indicated the identities of the artists, please let me know about any errors you notice. Here you will find the collection of English comics and there is also a German collection.
Printed Media
Don't assume I'm cis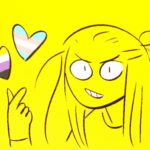 by Viima Äikäs (trans man, he made the comic when he explored if he could be non-binary)
autobiographical
2020, self-published, link to authors twitter for the zine
A comic of the struggles with being nonbinary and life while growing up.
The Deep & Dark Blue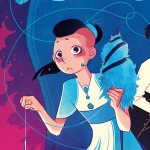 by Niki Smith (cis woman)
about Grayce (trans woman)
2020, ISBN 978-3-9341-6785-8, link to authors page for the book
A queer fantasy young adult comic on religious spinning, storytelling, avenging ones family and transitioning into being a girl.
My Dad thinks I'm a boy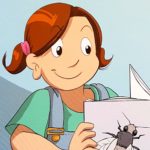 by Sophie Labelle (trans woman)
about Stephie (trans girl)
2020, ISBN 978-1787752214, link to publishers page for the book
A Trans Positive Children's Book. Stephie is 7 years old. She likes bugs, books and spaghetti. Also, she's a girl… which should be pretty easy to understand, right? Well, not for her dad! He's been mistaking her for a boy since she was born and struggles to see her as who she is.
Gender Queer – A memoir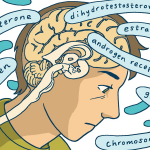 by Maia Kobabe (nonbinary)
autobiographical
2019, ISBN 978-1-5493-0400-2, link to publishers page for the book
A comic about growing up and coming out as nonbinary and asexual with a lot of sweet storytelling and a lot of theoretical input as needed.
A Quick & Easy Guide to Queer & Trans Identities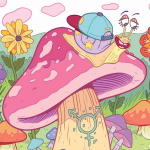 by Mady G. and J.R. Zuckerberg
2019 ISBN 978-1-6201-0586-3 , link to publishers page for the book
Magical forest creatures and talking snails observe queer and trans humans camping in the forest and provide queer and trans knowledge along the way.
Transposes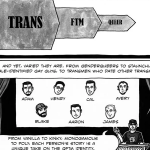 by Dylan Edwards (trans man)
about several queer trans men
2012, ISBN 978-0-9845-9408-5, link to publishers page for the book
A comic with seven true stories of transgender men who also happen to be queer.
Online Formats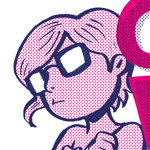 by Lena Dirscherl aka. BoPoLena (non-binary)
autobiographical
2020, self-published
A comic about contemplating one's own gender identity.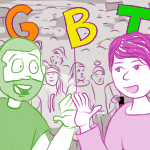 von Illi Anna Heger (nonbinary) und Sam Orchard (trans man)
über die beiden im Gespräch
2020, on the page of Goethe-Institut Wellington in New Zealand, overview page
For six month Anna and Sam take each other on trips around their queer hoods in Munich and Wellington.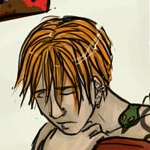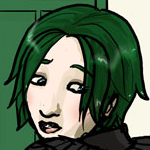 by Tab Kimpton (trans man)
about Charlie (trans woman), Tom (trans man), Charlie's story, Tom's story, start
This web comic series in 8 chapters follows students during their last year of school.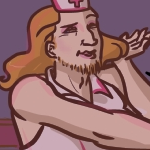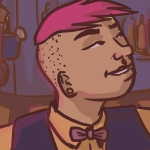 by Tab Kimpton (trans man)
about JD (nonbinary), Chris (cross dresser), start
When openly asexual Anwar Sardar gets dragged to a kink night by his (soon to be ex) best mate, JD; he is surprised to make friends with Chris Slate.

by Sam J. Orchard (trans man)
about himself
homepage

by Morgan Boecher (trans man)
about himself
homepage

by Kori Michele Handwerker (nonbinary)
about Sam (transgender)
homepage
Robot hugs

by RH (genderqueer non-binary)
about other genderqueers and trans people
Examples 1 2 3 4, homepage

by Elias Ericson (trans man)
about himself and other people on the trans spectrum
Tumblr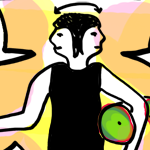 by Illi Anna Heger (nonbinary)
autobiographically
comic

by Rhea Ewing (nonbinary)
about different people on the trans spectrum
homepage

written by Scout Wolfcave (trans woman) and drawn by Penina Gal (genderqueer)
about Scout Wolfcave (trans woman)
Comic

by Jocelyn Samara DiDomenick (trans woman)
about Rain (trans woman)
archive

by Rebecca Gabriella B* (trans woman)
about herself and other people on the trans spectrum
example, homepage

by Tyler (trans man)
about himself
homepage

by Kylie (trans woman)
about herself
homepage