Background to Comic
This is the English translation of the minicomic, Was ist ein BarCamp?. It was created and translated in cooperation the queer-feminist FemCamp 2014. The minicomic is all about explaining what a bar camp is like. Below the visual Comic find a text-based version, Screenreadable Comic Version.
visual version of the comic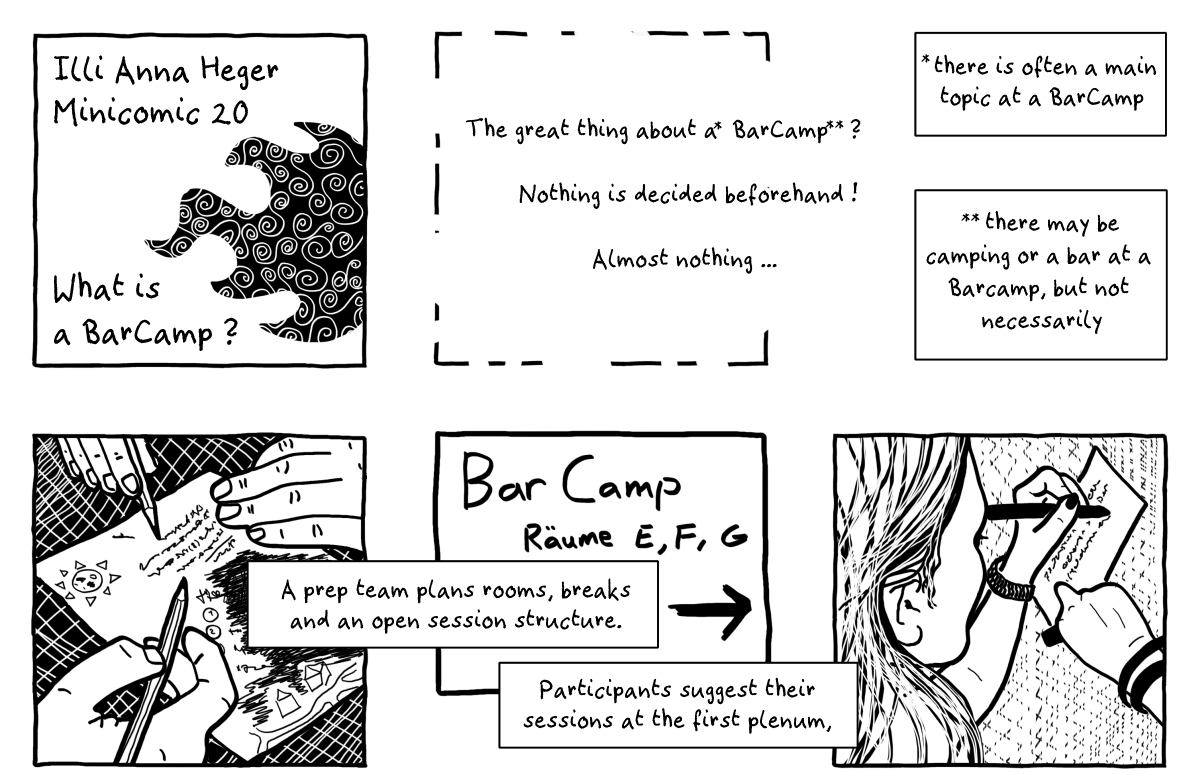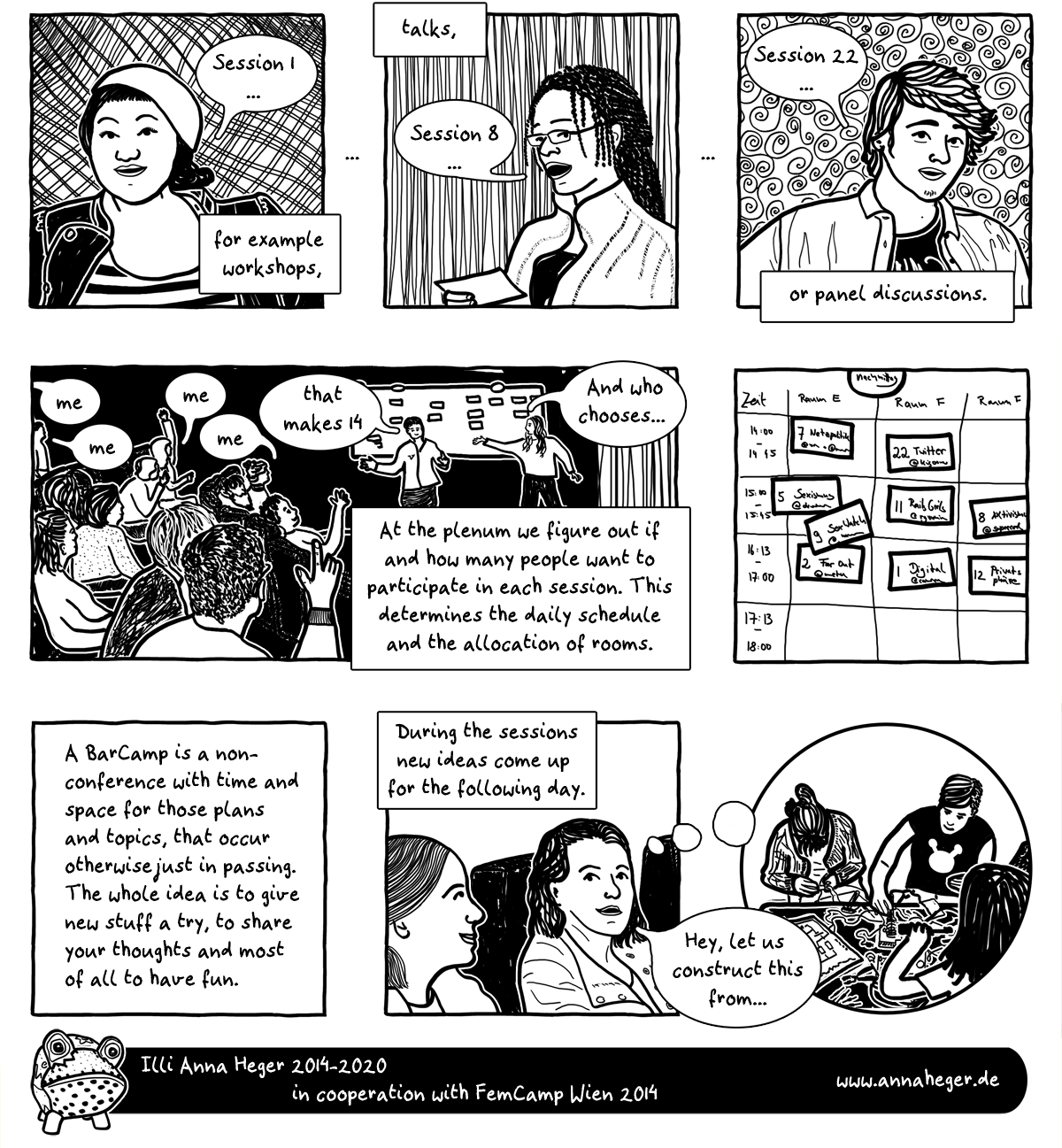 Transcript of Comic to Plain Text
What's a bar camp?
Minicomic 20
The hand drawn logo of bar camps looks like a ball of fire flying to the right. The symbol is decorated with a pattern of little spirals.
The great thing about a bar camp? Nothing is decided beforehand! Almost nothing.
There is often a main topic at a bar camp.
There may be camping or a bar at a bar camp, but not necessarily.
A prep team plans rooms, breaks and an open session structure.
Hands of three different people write notes on a collective piece of paper.
There is sign reading: "Barcamp. Räume E, F, G." A painted arrow shows in the direction of the meeting rooms.
Participants suggest their sessions at the first plenum,
A white trans woman with long blonde hair, painted fingernails and bracelets write session proposal on an index card.
Participants may offer workshops.
A cis woman with a round face, mid-length black hair and a fashionable hat suggests a first session. She is wearing a stripped shirt and leather jacket and smiles. She is a woman of color.
Participants may offer to give talks.
A black cis woman with box braids held together at the back of her head reads out the description of the session she wants to offer: "Session 8 is about…"
Participants may offer panel discussions.
A nonbinary trans man offers a panel discussion session. He is white and has wavy dark blonde Hair and a goatee. His white shirt is open at the collar over a black T-shirt. He looks a bit shy.
In the big assembly two white women present the different sessions to the participants. One wears a skirt and jacket, the other a wide comfortable top and jeans.
The white board is covered with index cards. There are many people in the audience, some have raised their hands other call "me" "me" to the moderators.
The cis woman with the skirt at the white board states: "that
makes 14".
The trans woman with the wide top points to the board and asks: "And who
chooses…".
At the plenum we figure out if and how many people want to participate in each session. This determines the daily schedule and the allocation of rooms.
The white board is zoomed it to show the time table for the day. In the rooms called E, F and G sessions take place on the following topics: internet politics, sexism, SexWatch, Far Out, Twitter, Rails Girls, Digital, Activism, privacy protection. On each index card the twitter handle of the person giving the session is indicated. Some of the time slots of the board are still open.
A bar camp is a non-conference with time and space for those plans and topics, that occur otherwise just in passing. The whole idea is to give new stuff a try, to share your thoughts and most of all to have fun.
During the sessions new ideas come up for the following day.
A white cis woman with mid-length hair is obviously enjoying herself. She sits next to a white trans woman with straight slicked back hair and tells her: "Hey, let us construct this from……".
Her thoughts are illustrated. She thinks of a technical workshop. Three people sit a a desk full with electrical tools. A white cis woman with bangs and a messy bun hairstyle screws together something.
Next to her, a white nonbinary person with a side cut reaches for a soldering iron.
A third person is sitting with there with their back towards us. They hold a screw driver in their hand.
Below a mascot, a happy wooden frog with patterned skin and big eyes is placed. This is @freefrosch – the mascot of the FemCamp bar camp.
Illi Anna Heger 2014-2020
More Minicomics available.