Background to Comic
For the eleventh year I am drawing at least one panel per hour I am awake. Below the visual Comic find a text-based version, Screenreadable Comic Version.
visual version of the comic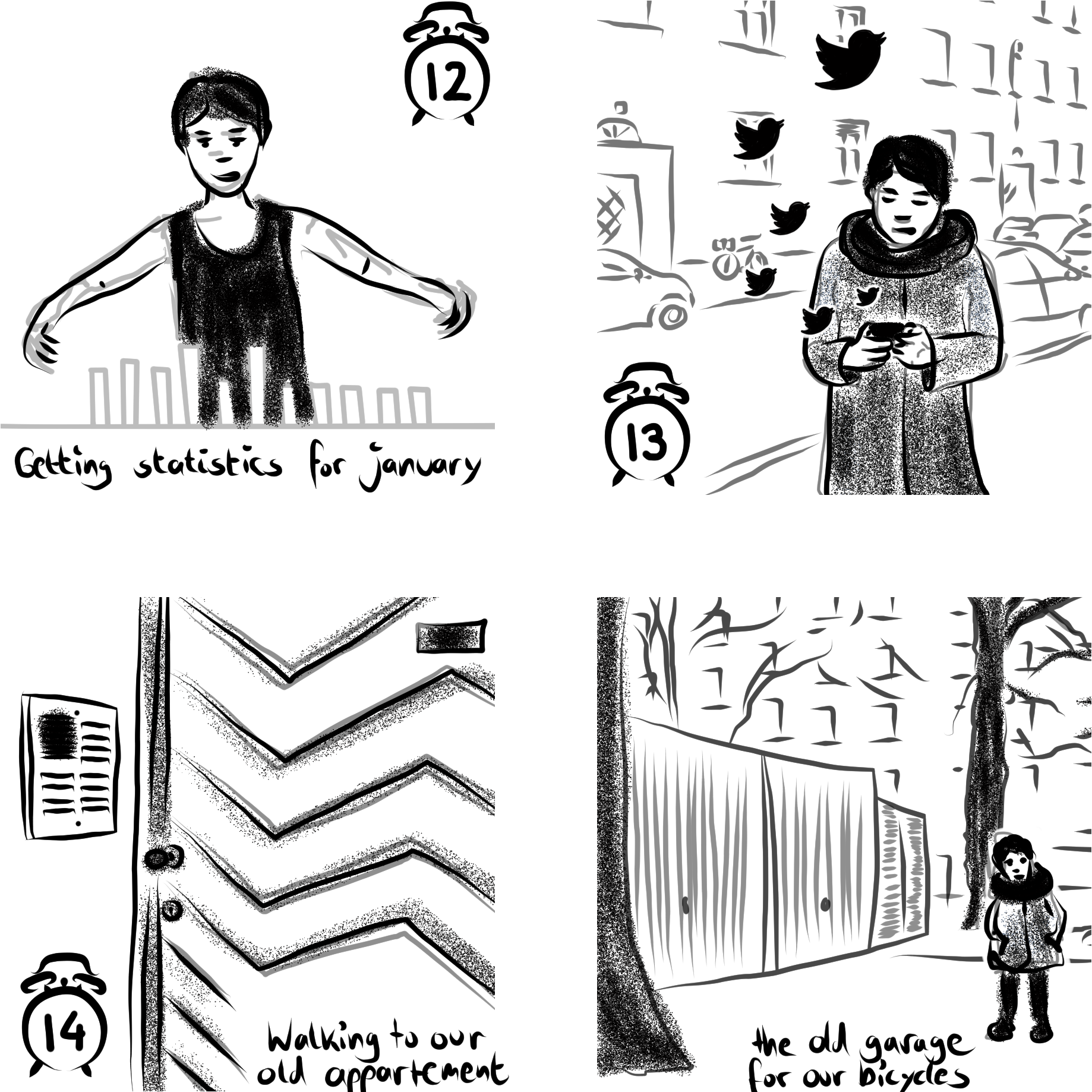 .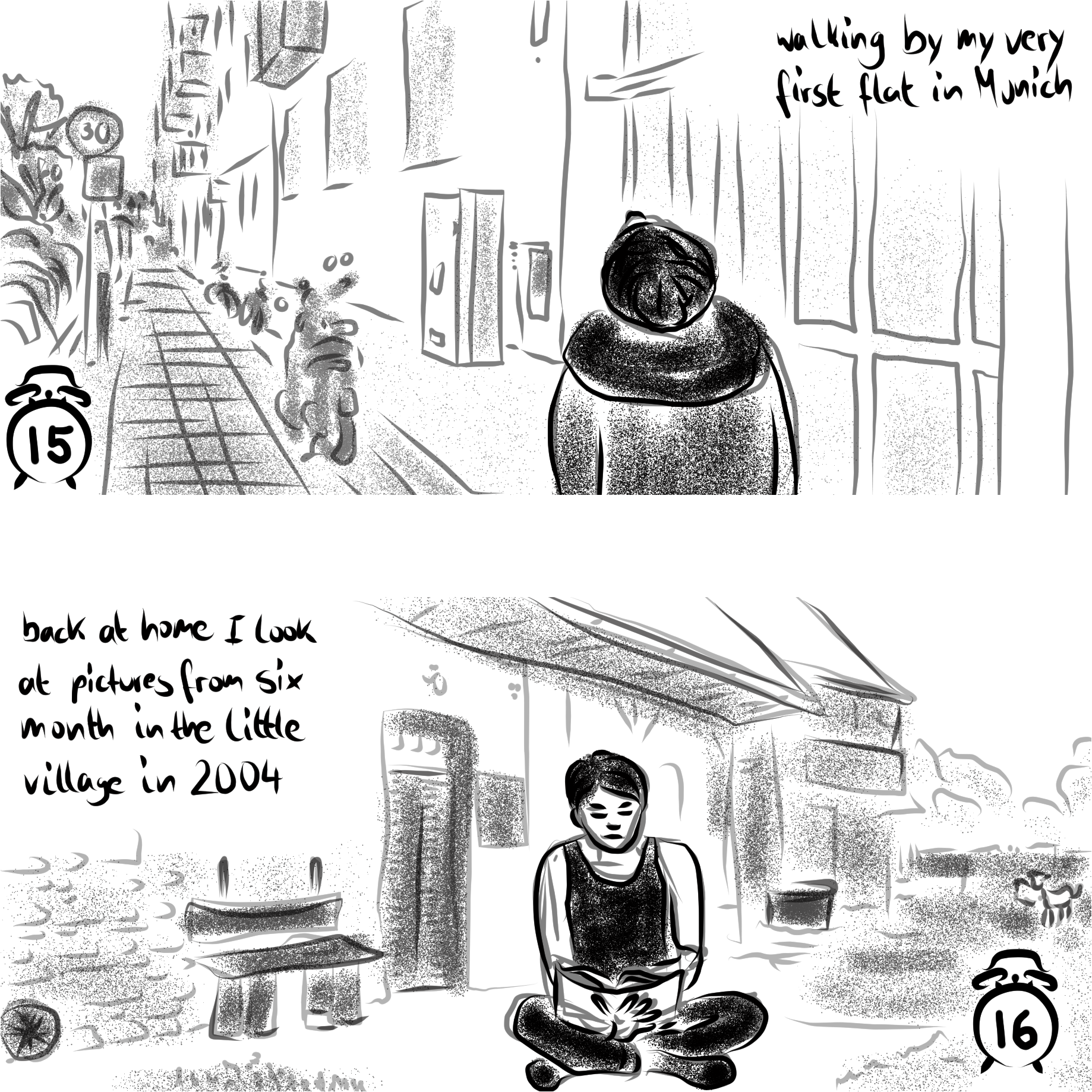 .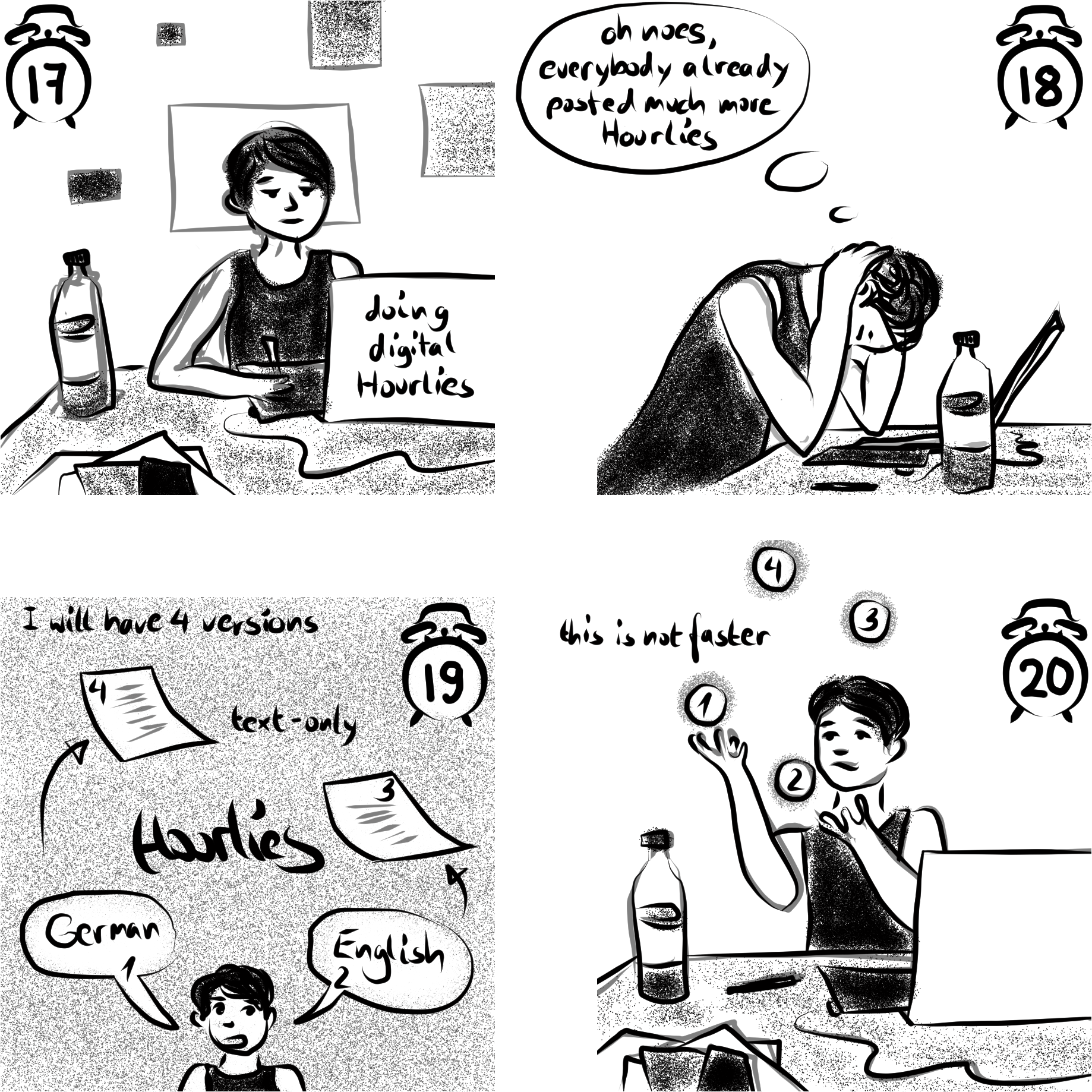 Transcript of Comic to Plain Text
"Hourly Comic Day" is handlettered digitally in big cursive letters with pigeon blue framed with black, below smaller in pigeon blue only:
first of February 2021,
Illi Anna Heger.
The time is indicated on a little old fashioned alarm clock. The drawings are scrawly and pigeon blue with some black coloring.
10 o'clock: I pull on black pants, next to an arrow pointing to them is written: "representable sweat pants".
11 o'clock: I sit in the kitchen with tea cup, tea pot and spoon Müsli, an arrow is pointing to the bowl: "müsli with grains, grated apple and roasted poppy seed".
12 o'clock: Getting statistics for January. I spread my arms to estimate the size of a big overlay bar chart.
13 o'clock: I am in front of my apartment building wearing a coat and huge scarf. I read tweets on my cell phone. Little twitter symbols are flying away from my hands.
14 o'clock: Walking to our old apartment. The entrance has an intercom system and an old wooden door. I am somewhere else next to two garages under big trees: the old garage for our bicycles.
15 o'clock: walking by my very first flat in Munich. I am in an urban street an look up at my old house. At the wall they near the door they installed a cigarette vending machine. Down the street a 30 street sign.
16 o'clock: back at home I look at pictures from six month in the little village in 2004. I sit cross-legged on the floor looking a a picture album on my knees. All around me the entrance of an old farm house with a raggedy bench poorly nailed together. Farther in the back a meadow and fence and two free roaming goats.
17 o'clock: Doing digital Hourlies, I sit at my laptop. Behind me framed pictures on the wall and on my desk a water bottle and a stack of different papers.
18 o'clock: Oh noes, everybody already posted much more Hourlies. I cradle my head in my hands still sitting at the desk with the water bottle beside me.
19 o'clock: In the middle of this panel "Hourlies" written huge in hand letters, below that me talking away happily: 1) German inside speech bubbles, 2) English inside speech bubbles 3) English in pure text, and 4) German in pure text. The first two symbolised by speechbubbles, the second two by typed pages. I will have four versions.
20 o'clock: I sit at my laptop juggling invisible balls numbered 1, 2, 3 und 4, this is not faster. On the table still the stack of papers and the water bottle.
END
END.