Introduction
Fellow comic artists, let's transcribe our comics together! On the Friday before the comics festival "Comic Invasion Berlin", in the accompanying program, CIB21 Satellites, I offer an online workshop for fellow comic artists who want to collaborate on creating text-only versions of their online comics to make them more accessible. Screen-readable text-only versions accompany visual versions of my comics to make them accessibly to comics for blind people and everybody else that uses screen-readers to surf the web. This workshop especially invites artists of comics communicating activism from and for marginalized communities. As a queer and non-binary trans comic artist, communication is very close to my heart.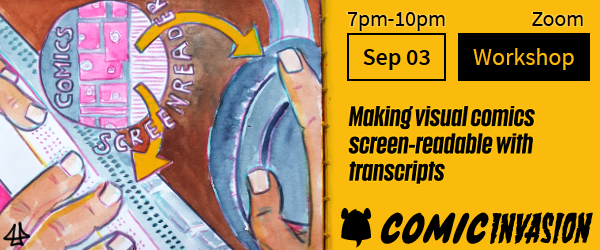 The workshop will focus on aspects of transcribing the text and visuals of a comic as well as on the technical requirements for a screen-readable website. It will include work in small groups working on the comic transcripts, and input on the basics of transcription and technical website aspects. The workshop language is English and comics may be in English or German. We will work in a group of maximum 9 participants on Zoom. Binding sign-ups via cibsatellites@gmail.com, when signing up, please send in a link to the comic you want to transcribe! For more prerequisites and some examples of transcribed comics see below.
Specifications
3rd of September 2021
7-10pm Berlin time (CEST)
apply at cibsatellites@gmail.com, submitting the link of the comic of yours that you will transcribe in the workshop and that has been published online
extract all the text from the comic, put it into an text file and bring to the workshop
by August 31st, please send in a transcription of the first 2-3 panels taking in to account text and visuals, no high expectations for this first draft, but something to work with
the workshop will be free
you may give a donation to the facilitator on pay-as-you-can basis and an invoice for the fee can be provided
Examples of Comic Transcriptions
This is the second workshop of its kind. Last year's workshop was held in German. Transcribed Comics where German and English. Have a look at them to get some inspiration and have a place to start from. There many ways and styles to transcribe a comics, as there are comics. Here are two examples in English:
Messy Parent Gender Transition: comic and transcript by Joris Bas Backer, in English.
Theory of the eggplant: comic and transcript by Illi Anna Heger, in English.
I set myself the goal to publish my comics in a tandem of a visual and a text-only version as much as possible. By now all my one-page minicomics have been transcribed. I have also multi-page comics that a screen-reader accessible:
Queer Comic Conversations: comic by Illi Anna Heger and Sam Orchard, transcript by Ulrike Rosenfeld, in English.
Corner of Herero- and Waterbergstraße: comic and transcript by Illi Anna Heger, in English.
---
I look forward to meeting you in September.