Introduction
For Goethe-Institut Wellington in New Zealand, Sam Orchard and me and went to have and draw Queer Comic Conversations. Sam Orchard is well know for his web comic Rooster Tails. This web-comic series was published simultaneously in English and German from July to December 2020. In addition to two pages of visual version of the comic, each episode contains a text-based version, a transcript where visual information is written out as text. More on the background on this can be found in my article on #ScreenReadableComics. More information on the background of the comic project can be found at the end of this page.

Monthly episodes
6/6 December – Queer Market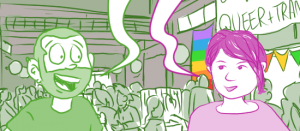 Link to December episode
5/6 November – TDOR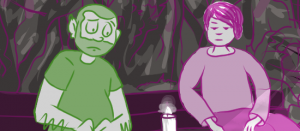 Link to November episode
4/6 October – Chosen Family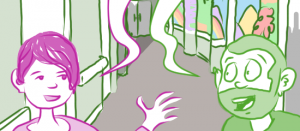 Link to September episode
3/6 September – Spaces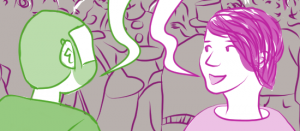 Link to September episode
2/6 August – Label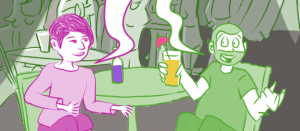 Link to August episode
1/6 July – Pride Parade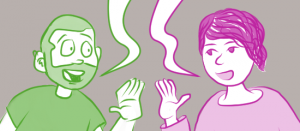 Link to July episode
Entry Page


Link to entry page
Digital panel discussion for Comic Salon Erlangen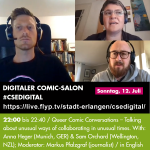 Markus Pfalzgraf interviews the artist team of Queer Comic Conversation, Sam Orchard and Illi Anna Heger about the newly released Kiwi-German webseries and its creative process. Watch it on youtube.
Background of the comic
The idea to the project "queer comic conversations" came from Goethe-Institut Wellington. Comic pages of Sam Orchard and me were to illustrate queer aspects in New Zealand and Germany next to each other.
Even before this request, I had been thinking about collaborate methods of making comics with a special focus on interview comics. Sam was enthusiastic about the idea of working together more closely and to visualize our queer conversations. We started to develop a joined concept for that. We met regularly in our online work space, because with thousands of miles between us, meeting in person was not possible. At the same time corona virus spread pandemically. Even if Sam would have lived close by, we would have worked online.
Visually, Sam took me with him to places in New Zealand, also back into the past. I invited him to Munich. The authenticity of the images results from each of us drawing ourselves and our environments. Reading the comic one can notice that. Sam works with on the green color spectrum and I work in magenta. The colors are complementary, but our experiences resonate with each other.