I want more control over my data, therefore I will first publish #immerzeichnen Sketches and part of my tweets and facebook updates here.
Starting this week, this website got its own sketchbook: www.annaheger.de/immerzeichnen. Posting excerpts from my sketchbook and from work in progress projects motivates me to keep going and to sketch regularly. I created the hashtag #immerzeichen to tie these posts together and enable my followers to mute the stream of visual input if necessary.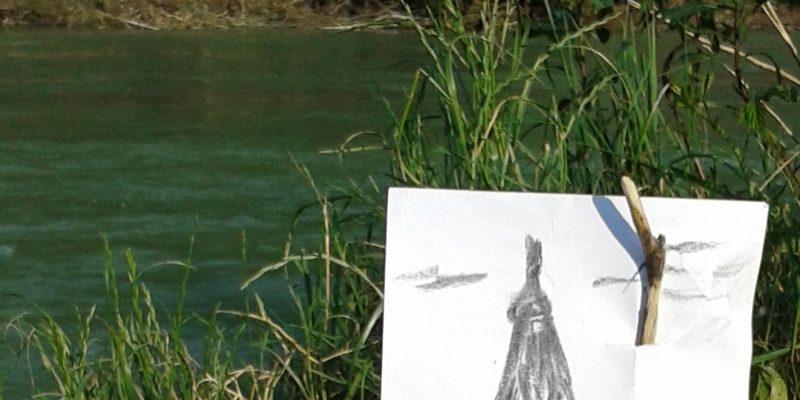 Tantek's tweet has been reminding me for two month to rethink the way I share my content with social media. What he calls POSSE, Publish on your Own Site, Syndicate Elsewhere, sounded super interesting. Social media outlets come and go, and posting my sketches on my own website will keep them from getting lost.
I do not want to stop using twitter, Instagram, Tumblr and Facebook. Different parts of my audience use different platforms and those applications are very convenient for users. That's why I changed my approach to more automatization. The short visual publications here will be syndicated elsewhere with back links and with my hashtag. Right now I am using the simple version of IFTTT to syndicate my content. I am sure there are other options, but I just used the first I tried that worked.
Edit: Currently I post manually or semi-manually because IFTTT does not transfer ALT texts and I want my images have image description on Twitter and Facebook.
English tweets and status updates are collected at annaheger.de/inbrief
My Germany brief notes are collected at annaheger.de/ganzkurz/.
Interestingly enough, Instagram is structured in such a way that it is possible to syndicate posts FROM Instagram to elsewhere, but not the other way around, except manually from Facebook. This is the only channel I am not yet automating then. I am still more independent from Instagram now, because the original content is kept on here.